From Amenities to Activities: What to Expect Living in Heartland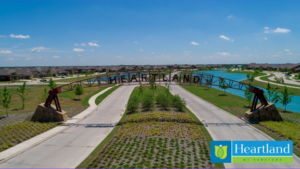 Are you looking for a new home in Texas that offers a range of amenities and activities for you and your family? Look no further than Heartland, located Crandall, Texas off I-30. This modern-planned community is known for its thoughtfully designed amenities and activities that enhance residents' quality of life. Here are some of the amenities and activities that you can expect when living in Heartland:
The Oasis Amenity Center: One of the most popular amenities in Heartland is The Oasis, a 5,000 sq ft event center that features a full kitchen, a pool complex with two waterslides, and a snack bar. The Oasis is the perfect place to host events, such as birthdays, and community gatherings.
Fitness Center: Staying active and healthy is easy in Heartland. The community's fitness center, a 6,00 sf space, is fully equipped with state-of-the-art equipment, making it the perfect place to exercise and stay fit.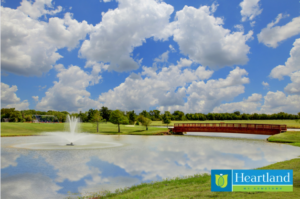 35 Acre Stocked Lake: The Heartland community also features a 35-acre stocked lake, perfect for fishing or simply enjoying the scenery. The lake is surrounded by walking trails, benches, and picnic areas, making it the ideal spot for a family outing or a peaceful walk.
Community Trail and Playground: If you're looking for more outdoor activities, Heartland has you covered. The community trail is perfect for a leisurely stroll or a bike ride. Additionally, Heartland has several playgrounds with unique features for children of all ages to enjoy.
Soccer field and Baseball Diamond: For those who enjoy team sports or have kids who love to play, Heartland offers a soccer field and a baseball diamond. These facilities are perfect for practicing your skills, spending time with friends, or simply enjoying the outdoors.
Living in Heartland is not just about the amenities, it's about the sense of community and the opportunities to create lasting memories with your family and friends. With its wide range of amenities and activities, Heartland is the perfect place to call home. At Huffines Communities, we understand the importance of providing our residents with the best possible amenities and community features at reasonable HOA costs. We invite you to come and experience Heartland for yourself and see why it's one of the best places to live in North Texas.